Swap Your Old Furniture For New One Today & Save - Up to 70% Off!
Trade In Your Wornout Furniture - Get a New One Without the High Cost At Jaebee Furniture
5 Steps To Swap Your Old Furniture
Upload Image of your old furniture
Upload your information and real clear photographs of sofa on website.
You will get an offer from us with a voucher with a discount code to purchase any furniture from our website.
Go to our website select the furniture you want to exchange with. Once you're done with selecting the product, simply you can use this coupon code while making the payment.
The coupon amount will be reduced from the actual amount that you need to pay. Make payment online and wait for delivery within 2 weeks of order.
We will pick up new old sofa on delivery of the new furniture. Done within two weeks
Jaebee Furniture Swap provides an opportunity to upgrade your existing furniture at exciting prices from our extensive collection of furniture. Our Furniture Swap offer lets you trade in your outdated pieces for something brand new, all at fantastic prices.
Take advantage of our Furniture Swap offer to save on new furniture! Trade in your old pieces and get amazing deals on any item in our store.
We Value Each of Our Customers
"Jaebee Furniture offers a wide variety of stylish and elegant furniture pieces that are built to last. Their pieces are designed with quality in mind."
"Jaebee furniture is surprisingly affordable, so you don't have to break the bank to get the look you want. And yes, they deliver on time."
"Every Jaebee piece is made with the finest materials, with attention to detail and craftsmanship. They have a wide range of options to suit all budgets, and are sure to complete any living space."
"Jaebee offers delivery on time and their customer service is top-notch. With Jaebee, you can be sure to get the perfect piece of furniture that is both stylish and durable."
"Jaebee furniture swap saved me a lot of money, now my living room looks stunning again."
WHY CHOOSE JAEBEE FURNITURE?
More Than Just A Furniture Store in Lagos Nigeria
JaeBee Furniture began in response to a need. Upon graduation, Jaebee Furniture's founder, Joy Shittu-Igbodike started working with her mom officially. Because they made furniture, their home always had beautiful furniture and was the object of admiration for many of her classmates. When they persuaded their parents to come and buy, the price was unaffordable for many.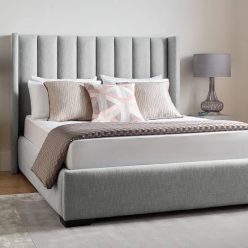 OUR PAST & CURRENT CLIENTS